Well last month sure was a fun month full of awesome projects, you ladies & gents really strutted your stuff in style. So many gorgeous projects again… thank you everyone.  It would have been almost impossible to have picked a winner  if I had to do it myself.

This month we are sponsored by Kitty Bee Designs who are offering the following prize:
PRIZE: 1 (non-colored) digi to a random winner.
….and the DT team have these fun projects to share with you.  The team were given two images to  play with… so I picked these two cuties, and the ladies did a fab job.  Thank you ladies.

Last month we had so many great entries, and I  am  happy to announce that random.org picked  this project as the winner for the Kit & Clowder Gift Certificate…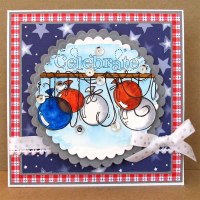 Congrats AJ,  please email me to claim your prize.  For anyone unfamiliar with Kit & Clowder  online coloring classes… be sure to drop by the Facebook Group too and check out all of the fab work by the Clowdies.
And now let's get cracking on some fab August projects…
Rules:
Max 3 entries per person
No limit on how many challenges you enter project in
Must be a colored piece featuring some kind of image, rubber, clear, digital stamps.. hand drawn..whatever. Does NOT have to be a card.
No artist restrictions.. but we'd love it if you were using a sponsor image
Please watermark your images before linking, but if you choose not to… that is your choice.
Project must have been made/posted on your blog within the last 7 days prior to the start date of the challenge.
If you do not have a blog, you can still enter… but please do not post  your projects anywhere that requires registration to view, or comment.
Most importantly..you must have FUN while you craft…totally unenforcible rule… but heh.
**UPDATED – Winners must claim by the 15th of the month.  These posts are shared  on the blog, facebook, google+ and twitter feeds.  Please make sure you are subscribed to at least one of these so you don't miss your chance to claim.
No porn, violence etc … do I really even have to say that ??
All submissions will require approval before going live,  if I am awake and at home… that won't take long usually.  But please be patient as I do have some important family issues going on right now.